After a long break I dug into the biggest, most mixed up mess of all. I was actually hoping to put this one off until close to last, but it seemed like things that should have had a place to be tucked away in here were spilling out all over the house.
I must confess I still have some things to do in here although I am calling completion on at least getting all the little random piles and things out of control and organizing the closet. I think I'll continue to pull out more to get rid of as I am able.
So this is a multi purpose room and the closet especially had become a place where any random old thing was stuffed when it didn't fit anywhere else. And with the kids toys and crafty things in here, it turns into a mess very easily.
My goals here were:
-organize craft supplies
-organize board games, video games and accessories
-tidy and file or recycle papers
-toss any broken junk and take out anything for donation
Here it is before: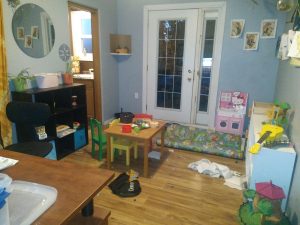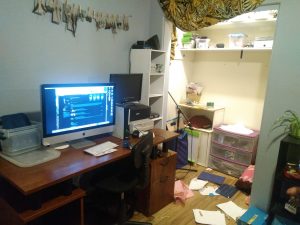 The kids play area was a bit of a disaster, probably worse than the blurry picture there shows. And the closet and desk were overflowing with clutter and the closet was a mess.
So! I went through my craft drawers at the bottom first. I set aside some supplies I really don't need or want, boxed up some of my messier things I use less often to get them out of reach of toddler hands, recycled some scraps of paper and made room in the drawers for things that really needed to be stored.
I went through the rest of the closet and found two bags and a box of yarn and string that was meant to be passed to a friend ages ago.
I pulled out dozens of kids drawings and paintings, piles and piles of them, and found a couple worth keeping and recycled the mass of them.
I used some empty boxes to store some more of the games and some of the magic cards so things fit on the upper shelves a little better.
I went through all the little random things lying around and put them where they needed to go.
I went through the drawers in the desk and rearranged some things so they made more sense.
I put some of the kids toys where they belong.
I had to pause to go to sleep last night, this is what it looked like partway through: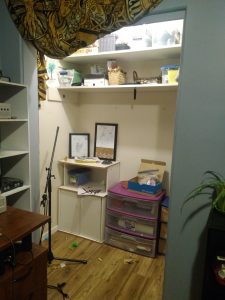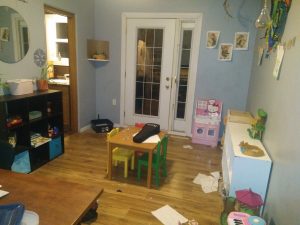 So this morning I went back in and finished filing a few papers, took out the garbage off the floors and swept and finished putting the toys and such away.
And I took the last few little things out of the closet so everything in there has a place.
Again, it's not perfect, but so much more manageable now!
Here it is after: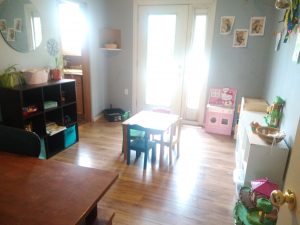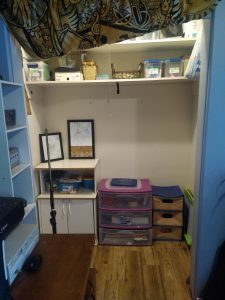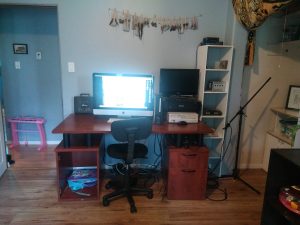 So that's that!
I think I might actually get more done in the living room and bathrooms today so I might have more very soon!
I felt like slowing down after the first few areas, but now that it is getting colder here I really want to get through this before it starts to feel like winter!
And I wanna get the clutter clear so I can work some more good feelings into our decor and arrangements!
Stay tuned for more!