Onto the next room! This one was a lot less work than I thought it might be. Again I skipped the cleaning stuff for now, just to focus on getting things organized and tidy.
Here is what I focused on in the kids room:
– Rounding up misc. things under the bed and in the junk bed drawers and putting them in their place.
– Properly organize the dress up stuff.
– Toss (or take aside to fix) ripped or broken things.
– Go through clothes to take out things that don't fit or aren't worn and organize what is left.
– Organize toys and games in the closet, purge if necessary, and see if there are any books to be donated.
Here's a shot of the closet before, this was my main focus: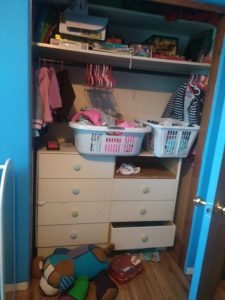 In here there is often some laundry to be put away! The extra basket there is full of things I thought might fit Trinity now to go through.
Saphira helped me get started while her little sister was sleeping in. First we went thought the clean laundry and as we were putting her clothes away we took out everything that didn't fit or that she didn't want to wear anyway and set it aside to go into a box for when Trinity is older.
Then I went through Trinity's drawers too and pulled out some things and added some new stuff. Put aside her outgrown things for her future little sister and stuck things that she might fit very soon in a laundry basket that I made room for back in the top of the closet!
I reorganized Trinity's dresser drawers so that she can actually open the bottom two which are the most used – some of the handles are broken off! I just rotated the drawers and put the clothes back in and made them fit a little more nicely.
Saphira decided to keep all the books – not surprising I guess. I went though the toys stored in the closet myself, but didn't find much of anything that needed to go. We purge toys pretty regularly. I did reorganize what was there and moved some things around so there is a lot more space for extra toys to be taken out of rotation and stuck there. And the games and puzzles we keep up there are a little easier to get to!
I also went through their dress up things and made sure everything was in the right place. I was looking for worn out or ripped things to get rid of, but what was in there was actually okay.
I found a bit of garbage and a bit of things to put away in other rooms, but not much at all.
Overall this went quickly and I love how much space is left now!
All that really came out was a small amount of clothes for the hand me down boxes and a few random things. No major clear out today but having things I in the right places makes a difference!
Here's the after of the closet: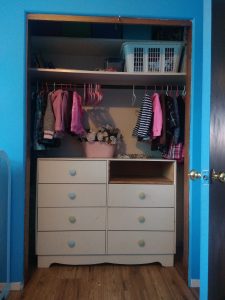 And some close ups of the storage up top: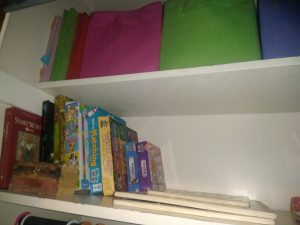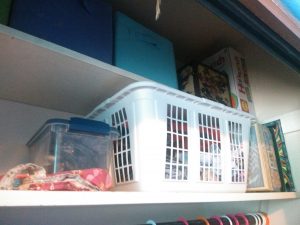 So the things we have tucked away are neat and tidy! I am glad to have this done and without much trouble.
I might skip the weekend and get back to this next week, depending on what else we get up to. I have some things to take to the thrift store and to people who want them already, so we'll see how it goes! You should see the next challenge up sometime in the next few days anyway, so stay tuned!
Have you been challenging yourself too? Please share your progress here or on my Facebook page!